bio

John West received his Master of Music degree with Honors from the New England Conservatory of Music in Boston, Massachusetts.His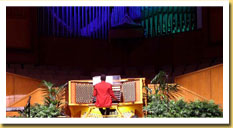 undergraduate study was at Willamette University in Salem, Oregon where he studied organ with Josef Schnelker and attained his B.M. in Piano Performance. His initial studies of the organ began at the age of 13 under the tutelage of Richard Purvis at Grace Cathedral, San Francisco. Throughout high school and college, John won numerous awards as a keyboard artist and vocalist.
Mr. West's performance credits include solo appearances with the New York Philharmonic Orchestra, the Pasadena Symphony and with the inimitable Arthur Fiedler and the Boston Pops. He has been a featured artist of the American Guild of Organists Region X Convention, the Los Angeles Chapter of the American Guild of Organists, and has performed at all of the major houses and instruments in Southern California including Walt Disney Concert Hall, Dorothy Chandler Pavilion, Spreckles Organ Pavilion, the Hollywood Bowl and Ambassador Auditorium, the Hazel Wright Organ at the Crystal Cathedral and the Great Organs of the First Congregational Church Los Angeles. As house organist at the Pasadena Civic Auditorium he has at his disposal the famed touring organ of Reginald Foort.

John's interest has not been limited to the classical and sacred music fields. Being raised in a 'pop-oriented' culture and understanding the validity of popular music, he has pursued knowledge and experience in the commercial music industry. He is an avid user of MIDI (Musical Instrument Digital Interface) and has a complete understanding of its concept and potential. In the more traditional popular genre, he performs on the Theater Organ and has been featured by the Los Angeles Theater Organ Society on numerous occasions. In the fall of 1995, John performed as a featured vocalist in New York with 'Patti LuPone on Broadway' and as Guest Organist
at the
famed Trinity Church on Wall Street. He has been clinician for many workshops, including Augsburg Fortress Music Publishers in 2001 and most recently for the 2004 National Convention of the American Guild of Organists.
John has played all the major symphonic organ and orchestra compositions including the
Symphonie Concertante
by Joseph Jongen,
Concerto for Organ, Strings and Tympani
by Frances Poulenc, and many not-so-well-known pieces such as Aram Katchaturian's
Symphony #3, for Orchestra, Organ and 15 Trumpets
.
In conjunction with all of his classical keyboard events, church work and vocal involvement, John has two published choral works.
Sinner Please Don't Let This Harvest Pass
and
Shepherd, Shepherd
, both of which are arrangements of Spirituals published by the famed Lawson-Gould Music Publishers in New York.
He has toured extensively throughout the world with performances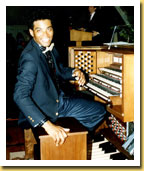 spanning distances from the Republic of Soviet States to the far northern reaches of Alaska, South America and throughout the United States including Puerto Rico.
In February 2000, John was the featured solo artist for the longest running radio show for the organ, '
Pipedreams'
with Michael Barone. As previously stated he has published works out of New York and Los Angeles, and the most recent pieces published by Augsburg Fortress:
Fanfare on 'Sine Nomine'
and
Now Thank We All Our God
. His first solo organ compact disc, 'Rev'd Up Organ!', is in its second pressing and his current CD 'The Roar of The Furies & The Sounds of Sirens' was just released in July 2004. This latest effort includes unusual mixing of both traditional and MIDI voices on standard literature as well as
Symphonie IV
by Charles Marie Widor performed with actors and on the 151 rank Casavant/Rodgers organ at Bel Air Presbyterian Church.
Top ^